So what is innovative about the 500L Stainless Steel Hybrid Tote? Firstly, the 'Dynamic Door' which was designed by ALLpaQ and delivered to the market back in 2018. This eliminates bacteria traps such as hinges, catches and locks. We've now improved this again, by utilising transparent material to provide an excellent view window.
Secondly, and most importantly, our plastic base is removable and interchangeable. So, not only is this unit much easier to clean, if your production requires a change to new validated bags with different bottom drain port positions, simply drop in a new ALLpaQ Hybrid base that we will design to match your new configuration.
This results in a single tote with many drain port possibilities. We also have a unique insert for our standard stainless steel dolly that allows it to work with both our plastic Cleanroom totes and our new Hybrid tote.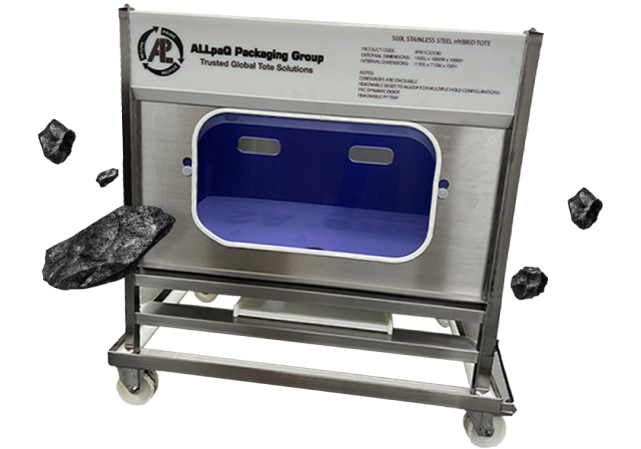 Resoundingly positive feedback from industry ranges from it being hailed as 'a very striking solution' to 'much more hygienic than standard designs'.
UV Stabilised 2d tray cabinets
High levels of UV radiation can damage the cellular structure of biopharmaceutical solutions in their single-use bags. Therefore, it's crucially important to protect them both from the physical damage that can come from handling, as well as the cellular damage that can come from UV light.
Following a client request, ALLpaQ resolved this challenge by designing and introducing to the market a range of UV Stabilised 2D Tray Cabinets. Let's shine a (safe) light on some of the features: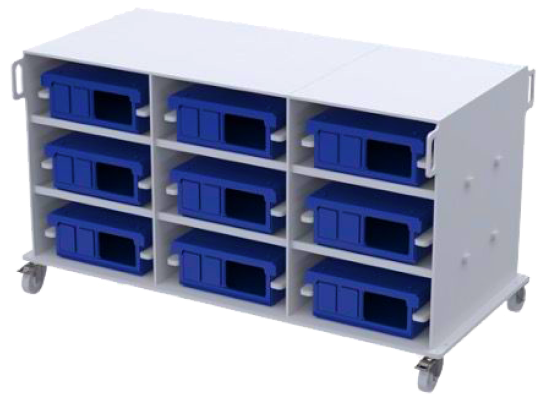 Trays can be stacked one above another or used with our 2D Tray Cabinet for ease of movement around your facility.
A pair of external handles allows for safe manual handling – as we cannot make hand holes in the sides because that would let in the light.
Sliding access gate on the front edge for connecting to your tube set when draining, keeping the light out when closed.
An optional slope insert tray for maximum efficiency during the draining process.
Available in 5, 10, 20 and 50L solutions, we can serve up any tray for you.